Parquet floors are traditionally made of hardwood that is firmer and more resistant to wear in comparison with softwood.

Hardwood in its turn can be divided into local and exotic (Africa, South America, South-East Asia, etc.). The first includes oak, beech, ash, maple, hornbeam, etc.; the rest includes mahogany, merbau, teak, wenge, iroko.

Recently relatively rare for Kanada species of wood began to appear on the market: sucupira, kamaru, lapacho, afzelia, mutenye, etc. Each species of wood has its natural color, texture peculiarities, level of environmental resistance, and different behavior at sharp microclimate changes.


Comparative characteristics of some wood species:
Oak
---
Oak wood is of moderate behavior, i.e. it has minimum expansion and shrinkage. The material looks beautiful in traditional white variant as well as in black, fumed one. Oak properties are well-known: firmness, strength, elasticity and moisture resistance.

Hardness according to Brinell: 3.7-3.9
Maple
---
Maple is widely used in light parquet making effective contrast in artistic parquet. Maple parquet is almost white with slight yellowish tint.

Hardness according to Brinell: 4.8
Hornbeam
---
Hornbeam is a relative of birch. It has curly grains making its processing difficult. Parquet made of this heavy viscous wood is shiny, pearl-white (or has a color of melting snow) with thin sand threads.

Hardness according to Brinell: 3.5
Ash
---
Ash is harder than oak. Ash parquet has mild creamy color. It is very elastic and therefore often ordered for sport objects.

Hardness according to Brinell: 4.1
Bamboo
---
Bamboo comes from tropics and subtropics. It is not a tree but a graminaceous plant. Its stem is a rigid culm reaching 40 m high and 30 cm in diameter. Such parquet is very durable, good carrier of load, resistant to climate changes. Stiff and homogeneous lint-colored surface of bamboo blocks looks like enameled one and is lighted up with rare blurred stripes and decorated with dark shot arrows – capillaries. Bamboo polishing requires delicate skill, but the game is worth the candle.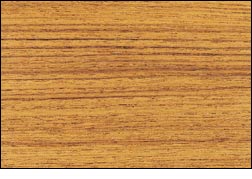 Teak
---
Teak has been used in shipbuilding since ancient times. It can be met on decks of all expensive modern yachts. This material almost does not dote (as well as larch, of which all Venice piles are made).

Hardness according to Brinell: 3.5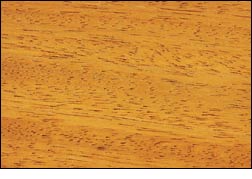 Iroko
---
Iroko is resistant to microclimate drops and high humidity. Its resistance probably comes from its origin: iroko grows in all the areas of tropical Africa and is accustomed to extreme conditions of damp heat. The color can be compared with teak but is slightly more yellowish. The pattern is hashed, rhythmical and wavy with opalesque amber tint.

Hardness according to Brinell: 3.5.
Olive
---
Olive grows in the south of Europe and in the adjacent areas of Asia. Mature wood is of pale amber color sometimes with reddish chatoyment. Zigzag dark orange fibers seem to move and look like flecks of sunlight. As the material is very dense (850-950 kg/cubic meter) with fine texture it is easily polished and one receives beautiful and smooth surface.

Hardness according to Brinell: 6.0
Pear
---
Pear wood is of saturated pink color. The finest texture is almost indiscernible. The pattern of annual rings is faintly transparent.

Hardness according to Brinell: 3.5
Cherry
---
Cherry comes from the same family as pear. Items made of cherry are of pink color (sometimes coffee-pink, sometimes pink-pearl). These qualities make cherry favorite decorators' material. An advantage of this parquet is pleasant warm and gentle look that we always lack.

Hardness according to Brinell: 3.3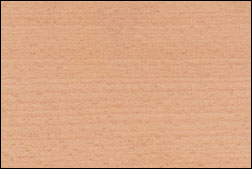 Beech
---
Beech may be pink and white. It is easily cut and polished, its tint is easy to even by special heat processing giving the wood warm brown-pink tint. More pale type of this wood is attributed to light species and is called light beech.

Hardness according to Brinell: 3.8
Alder
---
Alder grows not only in local areas but also in Asia Minor and North Africa. Deformation while drying is slight that makes the parquet resistant to humidity drops. This wood is not very firm. The texture is very fine, but it does not prevent the parquet from having golden-pink color.

Hardness according to Brinell: 3.8
Afzelia
---
Afzelia grows in the tropics of West Africa and is resistant to all external factors. It can be yellow or red. Red one attracts by its light sable-pink color range. Even little inserts in artistic parquet will made it more chic while the cost will not rise dramatically.

Hardness according to Brinell: 4.0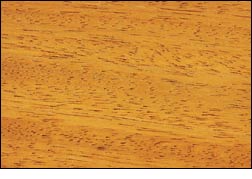 Kempas
---
Kempas grows in the South-East Asia. It is hard. It has bright and saturated colors from golden-red to dark-orange. Homogenous and dense (800 kg/cubic meter) wood structure is resistant to wearing and loads but deforms easily if influenced by damp: microclimate in the premise shall be even.

Hardness according to Brinell: 4.0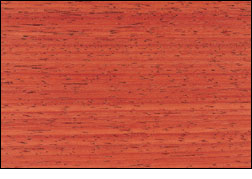 African Padauk
---
African Padauk grows in Cameroon, Nigeria, Angola, Spanish Guinea and Zaire. Esthetic value of the material is its bright coral-red color that darkens beautifully with time, acquiring deep intensity.

Hardness according to Brinell: 3.8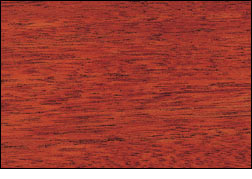 Jarra
---
Jarrah is a sort of eucalyptus. It is commercially cultivated at the Australian coast. The wood is bright, it has all shades of red: from strawberry to dark-cherry. Jarrah parquet darkens with time. Firm and dense jarrah (820 – 850 kg/cubic meter) is easily polished and grinded.
Mahogany
---
Mahogany grows in Central America. The mature wood is reddish-brown with free diverse pattern. The parquet surface is stable and dense; it has medium firmness and is easily processed.

Hardness according to Brinell: 6.0
Jatoba (kingwood)
---
Jatoba grows in Central and South America. The wood has very beautiful decorative colors: from red-brown to darker one. It is easily polished and looks nice on large areas.

Hardness according to Brinell: 5.0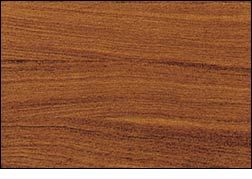 Merbau
---
Merbau is supplied from Malaysia, Indonesia, and Philippines. This exotic wood is of red ocher color with brown and yellowish fibers. It is widely used in artistic parquet. Yellow fibers disappear with time and the color of parquet becomes even.

Hardness according to Brinell: 4.1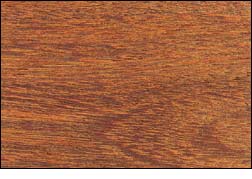 Sucupira
---
Amazonian coasts abound with it. It is too tough for destructive insects. It is also hard to process, but polishing and grinding is easy. Mature wood has chocolate-crimson color with ochreous yellow fibers.

Hardness according to Brinell: 6.0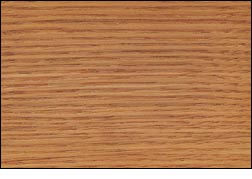 Jacaranda
---
In parquet production it is represented by its South American sort – palisander. Since ancient times it has been cut for furniture, musical instrument and colored parquet. The reason is its rare color of wood core: from dark red to chocolate- fulvous with plum rays.

Hardness according to Brinell: 3.2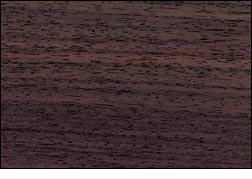 Palisander
---
Palisander is heavy and firm, easy to polish. It is successfully imitated by fumed maple, tinted alder and birch.

Hardness according to Brinell: 5.2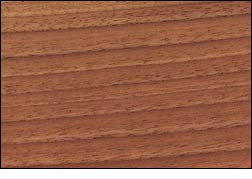 Walnut
---
Wherever it may grow, having different wood structure and color depending on the climate and soil, walnut has always been desirable for interior finishing. There are no cracks and deformations while drying. Density is 600-650 kg/cubic meter. Walnut finish is a privilege for any wood.

Hardness according to Brinell: 4.0
Mutenye
---
Mutenye grows in the tropics of West Africa. It is shiny and spectacular, as if specially created to become parquet or furniture. The color ranges from pale-coffee to olive-brown with bright violet rays. Mutenye is relatively firm, resistant to loads and deformations. It has almost no cracks and warping.

Hardness according to Brinell: 4.0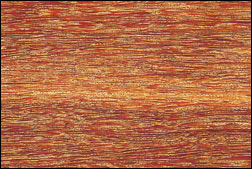 Kamaru
---
Kamaru grows in South America and the Amazonian basin. It is heavier and firmer than not only oak, beech, and afzelia, but than its neighbor sucupira. It reaches 1100 kg/cubic meter of density and 5.9 of hardness according to Brinell. Kamaru parquet of red gold color with dark lateral fibers has hypnotically beautiful look. But the material is not very resistant to loads and microclimate drops.

Hardness according to Brinell: 6.0
Lapacho
---
Lapacho wood is of silver-olive color with alterntion of dark stripes and light gentle flames.
Afromosia
---
has brown-gold color with dark fibers. It comes from equatorial Africa. Is used as a substitute for teak and in decorative elements of mosaic floors. The wood is very heavy and firm, it contains oily substances. It is easily dried, but substantially tends to warping.

Hardness according to Brinell: 5.9
Wenge
---
Wenge has the color of African tan and dark fibers. It is very firm (850-950 kg/cubic meter and 4.2 of hardness according to Brinell), very resistant to pressure and bending. Its pores are oily, saturated with minerals that makes processing and lacquering of wood difficult. Dark wenge parquet gives the interior mystery of jungle. It is widely used in artistic parquet.

Hardness according to Brinell: 4.2
Fumed oak
---
Fumed oak is dark. It has always been appreciated for its antique look. This noble material seems to combine time, warmness and firmness of a stone.

Hardness according to Brinell: 3.7 – 3.9